New Jersey Vein Treatments at the Vascular Institute at AMI
Providing Vein Treatment Care to Brick, Galloway, Vineland, and Cape May Court House, NJ
Our New Jersey vein treatment center specializes in a variety of vein disorders. The Vascular Institute at AMI is well-equipped to help you manage and combat vein conditions. Learn more about available treatments.
Premier Center to Combat Varicose Veins
Venous disease is a blanket term that includes any abnormalities or diseases in the veins. Whether you are experiencing discomfort, pain, or unsightliness in your legs, you are among the estimated 20-25 million other Americans also suffering from venous reflux disease. Age, weight, pregnancy, occupancy, or even heredity can influence the severity and likeliness of dealing with a venous disease.
There is a broad spectrum of venous disease ranging from spider veins to varicose veins. Spider veins are the small yet unsightly clusters of red, blue, or purple veins that most commonly appear on the thighs, calves, and ankles. Although these super-fine veins are connected with the larger venous system, they are not an essential part of it.
What Are Varicose Veins?
Varicose veins are large, often painful dilated veins under the skin. Varicose veins can become enlarged and in some cases quite prominent. They can be seen in some individuals as raised lumps in the thigh, legs and calves. If you experience bulging leg veins, restless legs, pain, discomfort, swelling, itching, or discoloration in your legs, you may have varicose veins. Treatment of varicose veins is typically more involved, but still minimally invasive.
The Vascular Institute at AMI specializes in providing creative and minimally invasive solutions to the whole spectrum of vein related medical issues.
SYMPTOMS OF VARICOSE VEINS
Aching leg pain
Easy leg fatigue
Leg heaviness, all of which worsen as the day progresses
RISK FACTORS
Family history of varicose veins
Age (more common as you age)
Gender (more common in women)
Obesity or overweight
Pregnancy
Reach out to our multidisciplinary team of vascular surgeons and vascular interventional radiologists today by calling us at (877) 595-9512. Learn more about our New Jersey vein treatment options.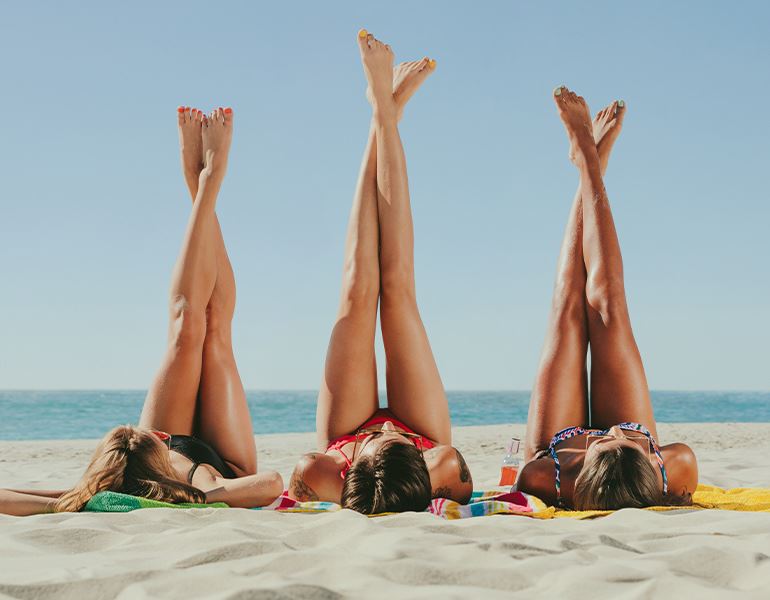 VEIN TREATMENT OPTIONS IN NJ
The Vascular Institute offers several minimally invasive procedures to treat varicose veins, including:
Endovenous laser treatment (EVLT)
During the EVLT treatment, ultrasound is used to precisely map out your vein. A local anesthetic is applied, and a thin laser fiber is inserted through a tiny entry point, usually near the knee. Laser energy is delivered to seal the faulty vein so that the blood cannot flow through it. This eliminates vein bulging at the source.
Sclerotherapy
Sclerotherapy is a procedure in which a sclerosing agent is injected through a tiny needle directly into the veins, causing them to contract and collapse. The blood then reroutes to healthy veins.
Phlebectomy
Phlebectomy is a procedure to remove varicose veins through tiny incisions in the skin's surface. The minimally invasive procedure is an effective way to completely remove problem veins from your legs.
SCHEDULING A CONSULTATION
If you are experiencing any of the following, you may want to schedule an initial consultation with our team:
Large, swollen blood vessels that accompany spider veins
Raised, knotted blood vessels that indicate rope veins
Gnarled, twisting blood vessels that alert to varicose veins
During the initial consultation, your legs will be examined for both visible and internal issues. Venous disease can cause eczema, discoloration, ulcers and bleeding.
What to Expect
After the initial consultation, you will return for another appointment that includes a comprehensive review of your medical history, a physical exam, and an ultrasound. The recommended treatment plan, along with its risks and benefits, the recovery period and the costs will be explained to you. It is important to be open in discussing your treatment goals. Don't hesitate to ask any questions or express any concerns you may have.
"I especially owe a debt o f gratitude to Dr. Petruzzi and Dr. Adler for their skills and encouragement. "

- Anonymous

"I'm so grateful to have Dr. Petruzzi and his staff as part of the medical team treating and dealing with my newly diagnosis of PAD. He's very sensitive, respectful, and most of all compassionate. Thanks for all you do ALWAYS! "

- Anonymous

"Dr. Jacinto Camarena is very knowledgeable, and he takes the time to fully answer all your questions and takes the time to explain everything. I highly recommend him. Also, the staff at AMI is great. "

- Anonymous

"It was a COVID-safe environment and the staff was very welcoming and professional. Dr. Watts has a vast knowledge of vascular issues and discusses the value of empirical evidence to support a sound strategy of treatment. His personality is positive, and his analysis is patient-specific. Highly recommend "

- Anonymous

"Dr. Schmidling was very patient and caring. He explained the process every step of the way and I never felt rushed or ignored. Great doctor and support staff! "

- Anonymous

"I saw Dr. Kim at the Brick Office. He was extremely knowledgeable, compassionate, and attentive to my medical issues. He was very patient explaining things to me using pictures and diagrams. Dr. Kim treated me like I was the most important patient he has! I am so happy to be his patient and I feel that I am in competent hands! Thank you, AMI for having ... "

- Anonymous
Your Journey to Better Health Contact Us Today!