New Jersey Vertebral Augmentation
A Minimally-Invasive Solution to Serious Injuries
Vertebral compression fractures (VCFs) are, unfortunately, an increasingly common and very serious problem among older Americans. These are among the most common type of fractures that result from osteoporotic fragility, and the result is frequently debilitating and prolonged pain. Instead of simply putting up with the pain through use of medication or enduring a risky and invasive surgical procedure, turn instead to our New Jersey endovascular experts!
Contact the Vascular Institute at AMI today for further information on our New Jersey vertebral augmentation services.
Causes of VCFs
Vertebral compression fractures can be caused by osteoporosis, which thins bones and weakens the structure of the spine, as well as by trauma. The symptoms for these fractures are often quite evident and present as severe pain – or numbness – in the back or extremities. However, if the bone collapse taking place is more gradual, the symptoms may be more subtle.
How the Treatment Works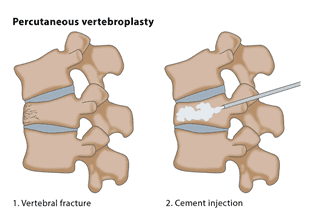 During vertebral augmentation, we create a void in the affected vertebra using a balloon catheter. This helps us to control and contain the delivery of the cement. After placement, the cement hardens and acts as a cast that stabilizes the internal structure, helping to alleviate the pain. The procedure has been shown in certain studies to result in effective pain relief for up to 80-90% of patients.
To learn more about whether you are a good candidate for our New Jersey vertebral augmentation procedure, call our team today at (877) 595-9512. Our multidisciplinary team of vascular surgeons and vascular interventional radiologists can help you!